10 things to do on a teinei holiday in Tono with Kirin
Sustainable travel has been a trend as of recent years with tourists looking to leave a positive impact on the places they visit. This is especially true for the Tohoku area, where more and more visitors are heading up to explore this natural region of Japan. If you're looking for such an experience, the city of Tono in Iwate prefecture is an ideal holiday destination. Endowed with beautiful nature, unique Japanese scenery and local heritage businesses that have been passed down carefully for generations, Tono has lots to offer. Moreover, a holiday around Tono is a great opportunity to experience the teinei way of life; you'll develop a newfound appreciation for the environment while experiencing the Japanese concept of politeness and mindfulness through a local perspective.
What's even more interesting is that Tono is also a beer town; it is where commercial hop (for domestic beer production) is cultivated. In fact, Tono is the largest producer of hop in the country, and they are looking to attract travellers and enthusiasts who are keen on exploring the world of beer production. From eye-opening tours through lush hop fields to seeing firsthand how craft beer is made, Tono is the perfect destination for foodies and beer fans.
Here are the top places where you can have a unique teinei experience in charming Tono.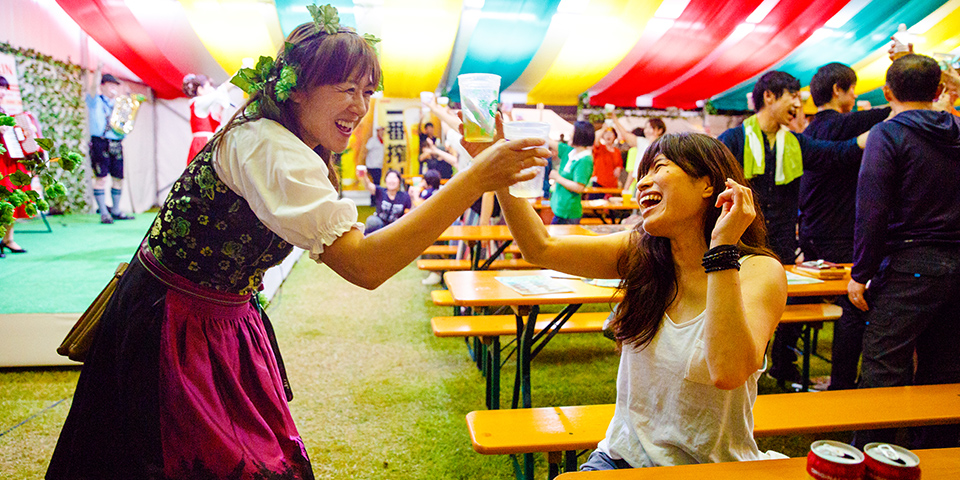 Tono Hop Harvest Festival
There's no better time to visit Japan's lush Iwate prefecture than in August to catch the annual Tono Hop Harvest Festival that's been a local tradition since 2015. A highlight of the summer season, this bustling beer festival brings the whole community together for a big celebration – it even draws a considerable crowd from other parts of Japan.
Local breweries and restaurants set up stalls at the festival grounds, dishing out delectable beer grub such as sausages and local padron peppers to go with draft beers. Choose from Kirin beers topped with frozen foam to refreshing craft ales that appeal to a wide range of preferences.
It's definitely worth visiting to sample locally-brewed fresh beer, great food and awesome company. You'll have the chance to communicate with the friendly locals while getting an inside look at the town from their unique perspective. Everyone is actively engaging with one another during this welcoming festival, and there's a lot of mutual respect and mindfulness between the visitors and the festival organisers. At the end of the day, it's one big happy family.
Tono Beer Tourism
Ever wondered how beer is made? Join this tour that leads you through the entire process from farm to pint. You'll start at the hop fields in Tono to see how this key beer-making ingredient is grown, harvested and processed to become hop for beer. The tour even includes a local lunch and beer tasting, which you'll enjoy right in the middle of the hop fields. You'll also stop by a padron farm; this Spanish pepper has recently made its way to Tono and is now a favourite beer snack among locals.
The tour is an excellent way to learn about the entire brewing process, especially in a place like Tono where production is generally quite small, and a lot of the production is done by hand. The process takes a lot of time and dedication, but in the end, it's about ensuring that you get the best beer possible. It's an eye-opening experience where you'll learn to appreciate the hard work and the attention to detail that go into each and every craft beer that's made in Tono.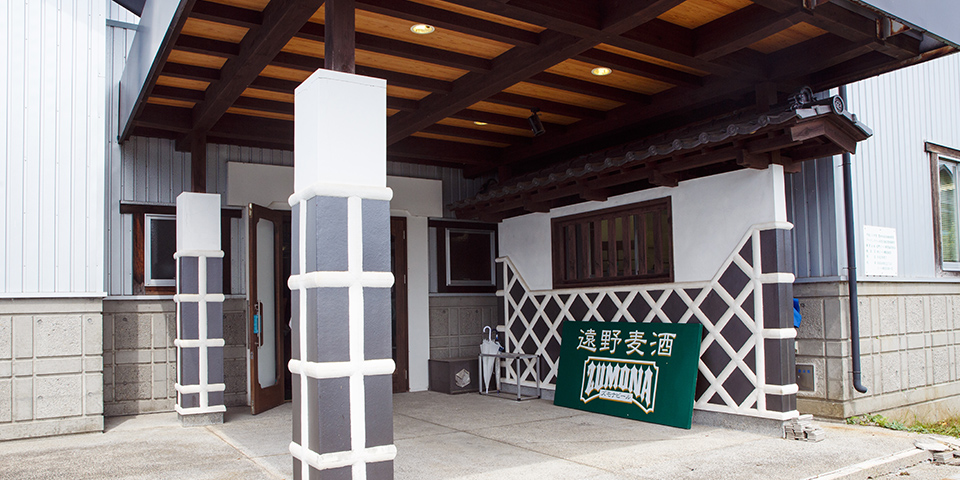 Kamihei Brewery
From the fields to the factory, you'll witness how beer is made at this renowned craft brewery in Tono. Housed in a small but efficient building, this production site is home to Kamihei Brewery, known for their nine craft beers, made using locally grown hop from the surrounding area. You'll even find these beers at the local convenience and grocery stores; try the popular Zumona pale ale and weizen.
Since the brewery is quite small, there are not as many people involved in the production process, making it easier to check on the details and maintain the overall quality. The team can communicate with everyone from the brewery to the farmers to keep the entire process in check. With such fluid communication, the beer production becomes a seamless experience for everyone from the farmers to the customers who end up enjoying the beer.
Tono Furusato Village
Take a step back in time at Tono Furusato Village, a unique park where you can experience local life dating back to around the mid-Edo period. Walk through this recreation of a traditional landscape, where you'll see everything from rice paddy fields to thatched roof housing.
While you're there, you can participate in workshops and learn about clay pottery and traditional dyeing methods using natural colour like aizome, akane and marigold. Depending on the time of year, you can also enjoy traditional events including the biannual festival to call for protection from wind and rain, as well as the occasion to decorate the gates around New Year to welcome the gods. The well-maintained facility is the perfect example of preserving history while giving an opportunity for the younger generations to experience it first-hand.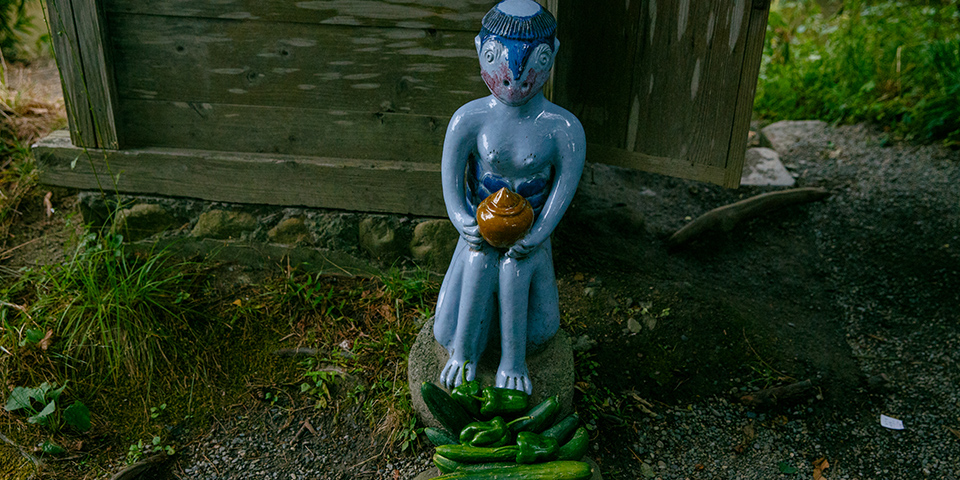 Kappabuchi Pool
Located a short walk away from Jokenji Temple, the mystical Kappabuchi Pool is said to be the home of Tono's famed kappa, the folklore character that resembles a duck and lives around areas with bodies of water. As many locals will inform you, kappa is notorious for eating cucumbers, so you'll find the vegetable lying around the pool area, as well as wooden fishing rods with cucumbers strung to the ends – so that you can fish for kappa if you're keen.
Kappa is also sometimes known as the 'god of water', so having these particular areas dedicated to the mythical creature is an important aspect of Tono culture. Tono continues to maintain and protect this natural area so the stories and traditions of the kappa can be passed down for generations. Stop by for a visit and bring along your little ones as it's a fun place to share a piece of Tono tradition with them.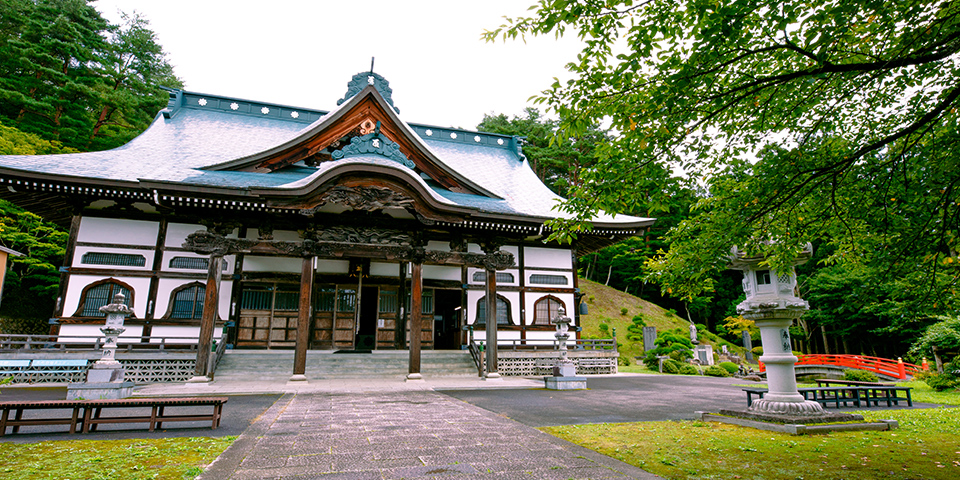 Fukusenji Temple
Home to the largest wooden Buddha in Japan, this historic temple is set in the serene surrounds of Tono. It is a popular destination during the cherry blossom season as well as in autumn when the leaves start to change colour. The main temple at the top of the hill is where you'll find this impressive large Buddha; it's carved from a single tree trunk and took the chief priest approximately 20 years to make. A later addition is the five-storey pagoda, which was erected in 2002 by the renowned miyadaiku temple carpenter, Kyoji Kikuchi.
The creation of this temple was no small feat. Time and patience were key in bringing this magical place to life. Miyadaiku carpenters made these temple structures from just wood, and they've been able to remain in tip-top condition for many years. Besides mastering the time-honoured miyadaiku techniques, artisanal carpenters such as Kikuchi are also adept at working cohesively with mother nature so that these sacred structures can withstand environmental forces and maintain their form for generations to come.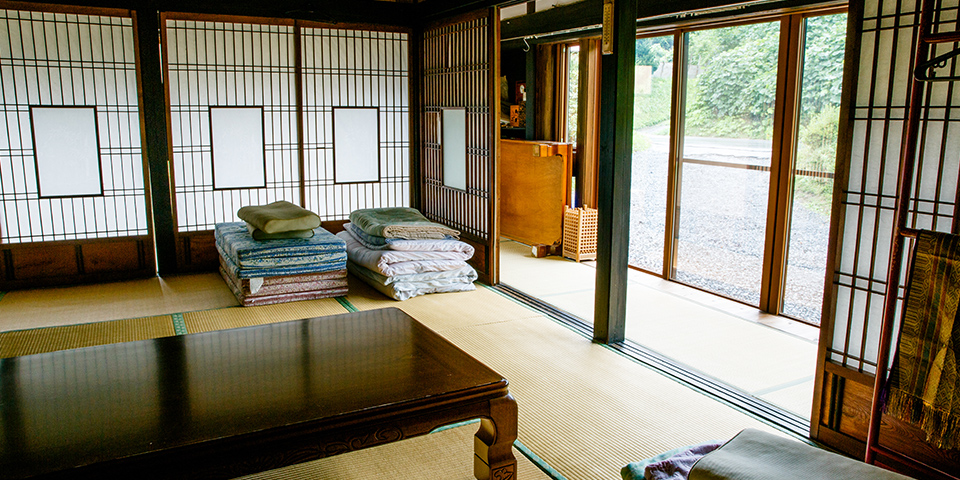 Farm stay at Agriturismo Omorike
Experience farm life in Tono at Agriturismo Omorike where you'll be introduced to different aspects of farm culture, plus the importance of spending quality time cooking and eating together. Although everyone who comes through the guesthouse may not speak the same language, a friendly camaraderie and passion for food are all you need to enjoy the experience here.
This farmstay is your chance to stay in a Japanese tatami-style room, while learning to cook tasty meals from houseowner Tomoko Omori. You'll get to assist her in preparing two meals a day (breakfast and dinner), plus visiting her husband's tomato farm in summer and autumn to hand pick fresh tomatoes right from the vines. The recipes she shares are delicious yet simple, so you can replicate them back home.
Eating something you've created yourself is truly rewarding, especially when you're using healthy, organic ingredients from nature. Connecting people with where their food comes from is truly the best farm-to-table experience, all the while fostering an appreciation for nature and the things you eat every day.
Genghis Khan barbecue at Anbe
When you're in Tono, the one thing locals recommend that you try is the Genghis Khan lamb barbecue. There's no better place to get this local delicacy than at butcher-shop-turned-restaurant Anbe, which was the original purveyor of this dish in Tono. Today, you can shop for fresh cuts of lamb at the shop, or sit down for a mouthwatering meal that goes perfectly with a cold Kirin Ichiban beer at the adjoining restaurant.
Open for lunch and dinner, Anbe takes pride in the quality of their lamb; they source premium cuts and pay special attention to the meat's temperature to help maximise its flavour. Anbe is a master at what they do; they don't even serve any other types of meat, so they can focus solely on the quality of their lamb.
The restaurant is so keen on sharing their love for lamb that they even started the tradition of offering free barbecue equipment to customers who purchase meat at their shop. Now wherever you buy your lamb in Tono, you are able to borrow this equipment for free. Whether you enjoy your barbecue indoors or out, cooking up a scrumptious meal of Genghis Khan is the ideal way to enjoy one of Tono's signature dishes.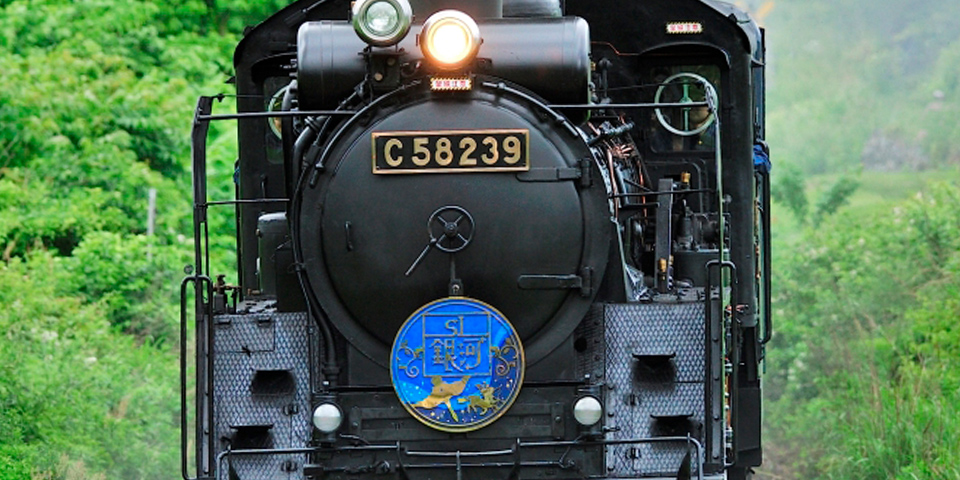 Ride the SL Ginga
Take a step back in time and hop on this classic train, which takes you on a journey from the town of Hanamaki to Kamaishi. Inspired by the book 'Night on the Galactic Railroad' by Kenji Miyazawa, this special restored C58 239 locomotive takes you through the different towns along the Kamaishi Line, which are all associated with the culture and beauty of the Tohoku area.
The retro stylings of this unique train, from its outer appearance to its rustic interiors, are representative of Japan's Taisho and Showa era. Aboard the train, you'll also find a special optical planetarium where you enjoy experiences right from the book, as well as a gallery featuring Miyazawa's works. With every detail reminiscent of the early 20th century, this nostalgic train ride is the perfect place to start your Tohoku adventure all the while capturing the stunning natural beauty and serene landscape of the Iwate prefecture.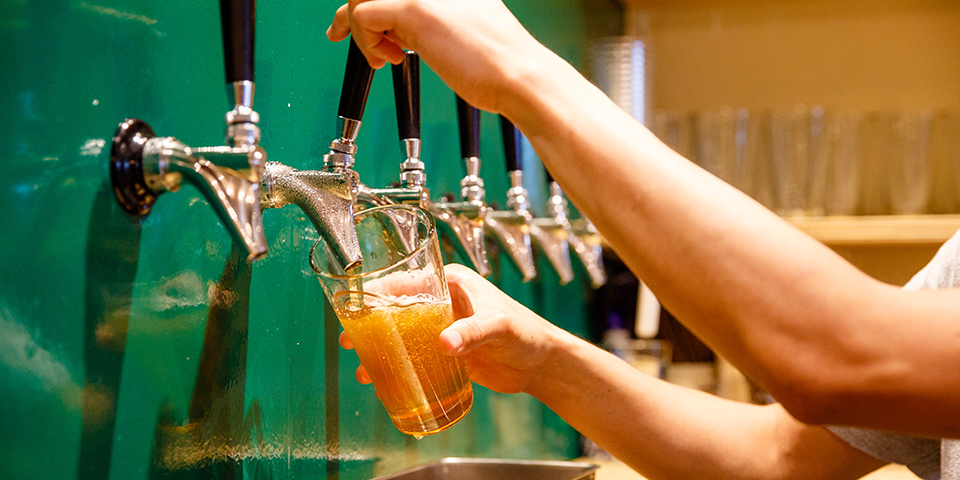 Tono Brewing Taproom
Sip on a fresh pint of beer at the Tono Brewing Taproom, located in the heart of Tono. Run by the Tono Brewing Company, you can enjoy beer that's freshly brewed on site. This small but dedicated brewery uses local ingredients including the region's famous hop for their beer. It's all about transparency here, as you'll find a clear glass wall at the back of the restaurant, which affords a good view of the beer production.
At the restaurant and bar, you can order one of the original beers that are available on tap, the premium Kirin Ichiban, and from the extensive food menu.
For those on the go, Tono Brewing Taproom also sells and rents out growlers in which you can take home your favourite Taproom beer. These growlers are refillable, so it's a environmentally conscious way to enjoy your favourite beer wherever you are.
How to get there
By train:
Take the shinkansen from Tokyo Station to Shin-Hanamaki Station and change to the Kamaishi line which takes you to Tono Station.
By bus:
Take the Kesen liner bus from Ueno Station directly to Tono Station.